As the state cancels the real estate agent's professional qualification permit and certification, it means that any citizen of the country can become a real estate agent, and the era of real estate "national agent" is coming.
Wearing the vest of the mobile Internet, the broker has become a low-cost and efficient marketing benefit.
Throughout the country, enterprises such as Vanke, Evergrande, and Five Media have competed in a networked environment, starting a scramble for innovation.
In Jinan, you can also receive recommendations in WeChat that follow the "National Brokers" WeChat public platform.
On a daily basis, can the popular marketing methods of the whole people be as good as ever in the hot field of real estate?
National marketing is a psychological battle
For developers, it is usually a set of combined marketing strategies, released by the window of national brokers to seize market share and increase revenue.
Under the rebirth, people are full of enthusiasm for exploring potential customers, and the popularity of "national agents" has soared.
At the beginning of the new year, in the face of severe pressure, many local small house enterprises in Guizhou are also eager to try, and hope to introduce universal marketing to get rid of the dilemma of cash flow as soon as possible.
Take the hottest five-media brokers as an example. As early as March, they have received cooperation orders from more than a dozen real estate companies, and many of them are well-known local real estate developers.
In addition, due to the consumer's awareness of real estate and the rational change in consumer mentality, the era of traditional home purchase consultants and other customers has come to an end. How to go out and find customers is a problem that many real estate enterprises are thinking about.
Therefore, the application of the national broker model will be more imperative for various real estate enterprises in the future.
It is undeniable that the national broker has become a trend. After experiencing policy adjustments in the past few years, the real estate market has begun to change from a seller's market to a buyer's market. Listed as the top priority for fast de-allocation and cash flow.
Wuling Tianxia National Broker Deluxe Edition Solution
This is a
或者 开发商 Real estate agency or developer
National brokerage system for direct hire model
经验值 , 自定义海报 。 Increased broker experience and custom posters .
,保留了我的 团队功能 , The team went offline , retaining my team functions ,
Humanized design and personalized operation mode.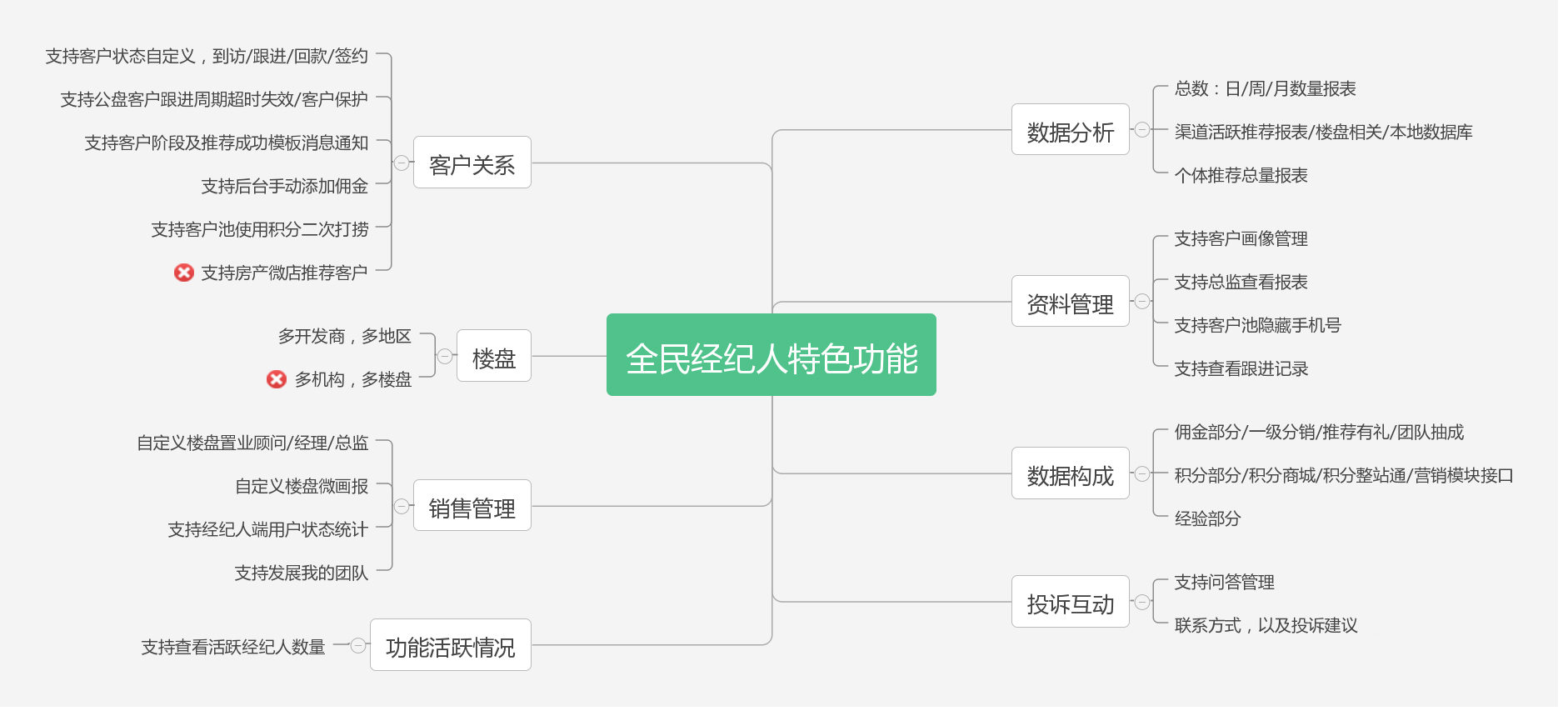 (Some functions of the cross are temporarily unavailable. If required, they can be customized.)
The main four heavyweight features
1
同时进行, 'Multi-city', multi-property, 'multi-identity'
Operate for different types of brokers,
Hiding the identity of developers and intermediaries,
身份对全后台数据的查看。 Added view of full background data as "Project Director" .
Home real estate transaction volume analysis, commission amount analysis.
Home and Personal Center
2
功能, Added customer pool function,
Similar to sales company ERP system, or some OA functions,
和跟进周期 , Clients introduced by the broker have confidentiality and follow-up cycles ,
Protect the interests of brokers of all identities while ensuring that customers are not harassed,
Actual weapon, only A knows A's customers, and only B knows B's customers
(Automatic and manual sales are optional)
If the customer does not follow up in a timely manner, it is deposited in the customer pool for storage.
C is used to collect points (or directly) to open Weiqing Points Mall.


Customer pool
3
View project report on independent background page
Data analysis project diversified broker growth trend,
,区域楼盘数量 ,区域楼盘成交量 , Customer growth trends , regional real estate numbers , regional real estate transactions ,
Customer status, active brokers, broker types, etc.
Number of active customers
Customer growth trends
4
Fully upgraded manager permissions,
, Independent real estate manager management ,
And multi-building manager management, invitation code management,
The manager complained about the phone call. The manager is no longer the manager and may be the leader.

,即销售实时对客户的描述记录。 Added the function of customer portrait , that is , the sales record of customers in real time.
,历史销售跟进记录。 Intention real estate, sales follow-up log , historical sales follow-up record.
All sales work can be realized on the mobile phone, seamlessly linking the daily working rhythm of the sales staff.
Brokers Real Estate Management
Customer Portrait

Customer case

contact details
Phone: 13885665889 Xiang Lei (same number on WeChat) QQ: 4867443